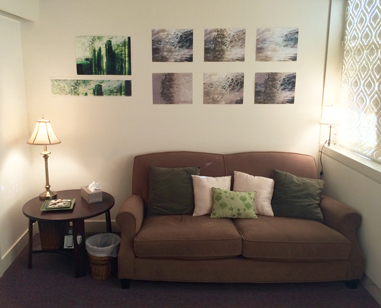 I am a clinical psychologist in private practice in the Dartmouth College and Upper Valley region of Vermont and New Hampshire.
My work promotes personal transformation and growth, increased self-knowledge and awareness, and a deeper capacity for connection.
Having been trained in a broad range of effective therapeutic styles, I am able to offer patients the therapeutic environment best suited for them and their issues, often weaving together several approaches. The goal of our therapy is relief, with increased self-awareness and improved skills for coping with life's difficulties, which can be achieved through many avenues. We will work together to confirm which components of therapy are a good fit for you, and we will check in from time to time to discuss how therapy is working. Some preferred approaches are Psychodynamic Therapy, Mindfulness Training, Dialectical Behavioral Therapy (DBT), Cognitive Behavioral Therapy (CBT), and Interpersonal Psychotherapy.
My Specialties
I work with adults, young adults, older adolescents, and older adults. I do both individual and couples therapy, and I do family therapy with the families of my patients with eating disorders. I work extensively with college and graduate students (my office is 15-20 minutes by car from Dartmouth College).
I specialize in working with body dissatisfaction, overeating, chronic dieting, and eating disorders, and I am a Health at Every Size, intuitive eating, and mindfulness practitioner. I also provide consultation and support for parents of an eating disordered child in treatment elsewhere.
I work with college students and adults with ADD/ADHD, developing strategies to create organization and success.
I have extensive experience working with African-Americans, as well as issues related to multiracial families.
I have a special interest in issues related to adoption.
I do therapy with people struggling with issues related to a range of situations:
self-esteem
dysfunctional patterns in traditional/nontraditional relationships
social difficulties
emotional sensitivity
life transitions
adoption
race
spirituality
sexuality
LGBTQ
identity
postpartum depression
early parenting difficulties
mood swings
stress management
infertility
grief & loss
depression
anxiety
insomnia
eating disorders
body dissatisfaction
chronic dieting
overeating
ADD/ADHD
We'll target your immediate concerns first. My patients tend to feel relief in the first few sessions, then often choose to continue therapy in order to better address the underlying cause of their issues. Continued therapy leads to healthier patterns, a more vibrant, satisfying life, and improved capacity for happiness and calm.